How does IOL apply to real life business situations?
---
Through their expertise and work with the business community, IOL (Individual Oriented Leadership) researchers Ingrid Enander, Ph.D., and Maria Lundberg, Ph.D., understood that it was not enough just to define the concept of IOL, but equally important to validate it and relate it to the actual business environment.
As a result, they developed the IOL Tool, a leadership assessment that will:
IMPROVE
EMPLOYEE
RETENTION
SUSTAIN
LONG-TERM
SUCCESS
IDENTIFY
LEADERSHIP
TALENT
Build Powerful Leadership
---
Find out more on how IOL Tool can build powerful leadership for your specific situation. Then contact us to find out how this small investment of time and expense can make a significant impact and lasting returns.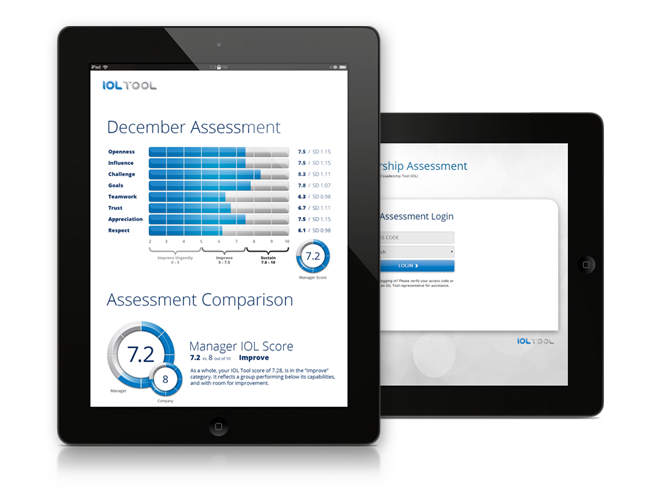 Eight Competencies
---
IOL Tool Assessment focuses on eight competencies that produce lasting leadership effectiveness.
Based on the answers to the questions in the assessment, you will receive a detailed report that will accurately reflect the results of our analysis and how those results can be translated to the development of your leadership—ultimately improving your group's performance.
Our proven, scientific assessments focus not simply on assessing your team's strengths and areas of improvement, but on capitalizing on the strengths and addressing the areas of improvement for the individual.
What is IOL Tool?
---
Make a positive impact on the success of your company or organization by identifying and enhancing leadership performance.
IOL Tool will—
Our Story
---
Founded in 2005, IOL Tool has been scientifically validated and consistently proven to improve leadership qualities, effectiveness and the bottom line.
Our ongoing partnership with international consultant Anders Hedin, Ph.D., Associate Prof., ensures IOL Tool remains a cutting edge product for game changing efficiency in your development or organization.
With a background in cancer research, Anders has over 18 years of corporate experience as a manager in multinational organizations, including 4 years of global responsibility. This experience, coupled with 14 years as a successful international leadership consultant, makes him uniquely qualified to deliver results to a global market.
Our Research
---
The experienced managers and researchers, Ingrid Enander, Ph.D., and Maria Lundberg, Ph.D., met in 2005 at an Executive MBA program at the prestigious Uppsala University in Sweden. With extensive academic research backgrounds and vast corporate managerial experience, they set out to redefine the way leadership is understood. They focused on the idea of generalizing leadership into styles, groups or characteristics and simplified it to the idea of leading people on an individual basis.
They called this idea Individual Oriented Leadership (IOL), on the basis that the most successful leaders have the ability to practice different leadership styles to motivate different individuals.
The concept of
Individual Oriented Leadership
---
According to researchers Enander and Lundberg, an Individual Oriented Leader is someone who is goal-oriented, driven, loyal, working with integrity and teamwork by: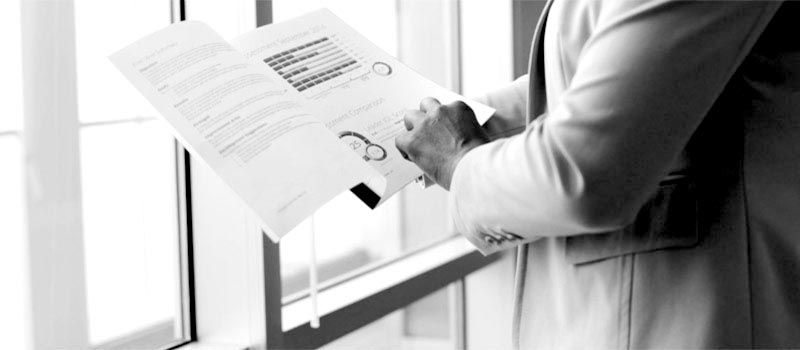 Contact Us for Presentations, Training and Consulting
---
We are available, through our IOL Partners and other resources, to provide in-depth training, informative presentations and ongoing consulting.
Check out the latest publication from founder Anders Hedin, Ph.D. Associate Prof.:
Individual Oriented Leadership
---
This informative book offers hands-on strategies for leaders and managers applicable to various industries.
Read an Excerpt:
---
"Leaders enhance motivation and enthusiasm either by giving team members exciting tasks or by creating a stimulating culture. Take a moment and consider which one is easier to influence. Also, which of these do you believe generates long-term results?"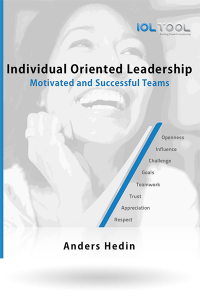 The Task
---
One team member can find a task rewarding, while that same task can seem tedious and pointless to another. In general, managers find it relatively easy to assign tasks and responsibilities based on skills and competencies amongst team members. However, often the variety of tasks and duties are limited to the type of department or function of the team. Furthermore, upper management often controls a department's tasks and duties.
The Culture
---
As a manager and leader you always have an opportunity to improve the working environment and culture of your team. It may take time before the results are visible, but an improved team culture leads to motivated and confident employees even during challenging situations.
With this book, you are holding a leadership tool detailing eight leader behaviors that will give you a stimulating and dedicated business culture. It's a way to develop sound leadership practices that promotes motivated employees and improved results.
Learn more about our research and and download other IOL publications.